The 2009 IPA Senior Nationals attracted a great group of lifters to York Barbell Company November 21 - 22 coming to Pennsylvania from across the country as far as California. The meet was sponsored and directed by Mark and Ellen Chaillet, Chaillet's Private Fitness. We can't thank York Barbell Company enough for opening its legendary doors to IPA lifters. The facility is top-notch and continues to facilitate in creating lifelong memories offering a venue where 77 years later personal records, Association records and All-Time records are still set and subsequently broken. It has become home to so many IPA lifters over the years.
As is true with the rest of the powerlifting community's myriad associations, the IPA has seen the Raw division gradually grow over the past few years to the point that about 40% of the lifters competing in the IPA Nationals this year entered the Raw division. Many competitors have always lifted Raw, though interestingly, some of the Association's most talented geared lifters surprise us showing up gearless. For the purest lifting Raw is the only way to go, others tire of the hassle of getting into and out of the gear, still others may find some to today's prices for gear prohibitive. The IPA's foundation hinges solidly on the idea of offering divisional options to accommodate all lifters whether with or without gear, drug tested or non-drug tested, spanning all ages and levels of competency. The IPA exists truly as a "lifters for lifters" organization intending to continue to develop and grow powerlifting in every direction where interest lies.
The IPA continues to grow and thrive thanks to its competitors who are as exceptional on the platform as they are as good people. The meets wouldn't happen if it were not for the lifters, the support of our volunteers, sponsors and vendors. Thank you again to York Barbell Company for the venue, our judges, spotters, loaders, Mike with the Crazy Tomato, Steve with CA Weber Insurance Company, Michelle, Glen and Sharon for their tremendous support at the scorer's table, Billy for making sure everything works, Gene and Ame Rychlak for their undying support, and Tracy for her tireless hours at the door (and great brownies!).
FULL POWER MEET
Some big numbers were accomplished in the Women's and Teen divisions. While the women's class was sparse, the quality of the lifting was superb. The IPA's most exceptional female teen, Anna McCloskey surprised us lifting Raw for the first time at the Nationals. Bear in mind that Anna's best numbers equipped in the 181 lb. class are records in the 14 – 15 year old class squatting 535 lbs., benching 280 lbs., pulling 450 lbs.! At 16-years-old Anna's Raw numbers were equally impressive taking 385 for a ride on her third squat attempt, having to settle with her second attempt of 340 lbs. She wrapped up the bench with 185 lbs., coming darned close to her equipped dead with 410 lbs. Anna won the both the full power and bench only Women's Teen Best Lifter Awards for her performance. Lifting in the 165 lb. class, Jessica Scofield won the Amateur Women's Best Lifter Award with a super performance squatting 350 lbs., benching 205 lbs. and pulling 365 lbs.
Michelle Borzok, 148 lb. class, never disappoints with consistent superb performances. Michelle lifted in the Elite Amateur division that requires she be drug tested every time she competes. The Elite Amateur division is for those lifters who total an IPA Professional total making them ineligible to lift in the Amateur division. Because Michelle totals a Professional total, she is rolled in with the Professionals for best lifter. Michelle easily won the coveted Pro Women's Best Lifter Award with her opener 460 lb. squat, nearly bombing in the bench making her third 375 lb. bench and breaking a record with her third dead of 425 lbs. Equally impressive lifting in the Pro division was seen from Elaine Grimwood and Rheta West. Elaine is the IPA's own little Mighty Mouse weighing in at a mere 105 lbs. Somehow Elaine manages to roll long distance marathon running with powerlifting and makes it work! Sounds like an oxymoron, but her husband and coach Bob Grimwood swears it has helped her lifting. He must be right, Elaine squatted over three times her bodyweight with 330 lbs. narrowly missing a bomb-out making only her third attempt. A bench of 190 lbs. and a 330 lb. pull rounded out Elaine's day. Rheta West has blossomed into such a notable lifter. Lifting in the 148 lb. Pro Women's Submaster division, Rheta really turned heads with a 505 lb. squat, 295 lb. bench and 405 lb. pull.
In the men's teen division, new lifter Jake McAlpine stole the show. Bob Grimwood's hoss of a neighbor made quite a statement for his first time on the platform taking home the Men's Teen Best Lifter Award. Lifting in the 308 lb. class, Jake managed to break a couple of big IPA records. Weighing-in at 294 lbs., Jake broke his first record taking 525 lbs. for a ride on a fourth attempt squat, benched 310 lbs. and completed his record-breaking day pulling 470 lbs. Raw lifter, 165 pounder Elijah Ruth showed he owned the dead lift breaking a Teen (16-17) record with a 305 lb. pull.
One of the clear stars of the meet was Michael O'Brien, Jr. who competed in the Amateur Men's Junior and Open divisions. Michael earned his first Pro total and the Amateur Men's Lightweight Best Lifter Award with a total 10 ½ times his bodyweight of 148 lbs. Mike took 700 lbs. on his third and fourth squat attempts, but ultimately had to settle for his second attempt and a new IPA record of 650 lbs., over 4 times his bodyweight! Michael followed with a 400 lb. bench and another record in the dead lift with 515 lbs. Pro Junior lifter, Clinton Koser gave us another stellar performance. Clint is an overall superb athlete physically, mentally, and emotionally. He is a pleasure to know and watch compete. Clint won the Professional Men's Lightweight Best Lifter Award with a record-breaking 732.5 lb. squat, 410 lb. bench, and 575 lb. pull. Clint gave both a 462.5 lb. bench and a 630 lb. pull a hearty try, but it wasn't in the cards at this meet.
Among the IPA elite lifting was Brian Crowe who surprised us by lifting Raw. Brian mentioned a lower back injury to his coccyx. He decided he would try to take it easy this meet and lifted without gear. His performance was first-rate earning four IPA Raw records 500 lb. squat, 330 lb. bench, and a 545 lb. dead lift and a 1375 lb. record total.
Winning the Amateur Men's Heavyweight Best Lifter Award was Stephen Buccilli with a 770 lb. squat, 520 lb. bench and 650 lb. pull. Congrats! Walking away with the Professional Men's Heavyweight Best Lifter Award was Jerri Obradovic. Weighing-in at 260 lbs., Jerry powered up an 820 lb. squat, 530 lb. bench, and a 710 lb. pull. Jerri is an impressive lifter to watch, we hope to see him in June at the IPA Strength Spectacular.
"Hoss" Scott Cartwright stole the entire show with an 1110 lb. opening squat. This was Hoss' first IPA meet and we were happy to have him join us at the Nationals. After a long trip from California, a big weight loss, and at least 4 tries to make weight, the big squat just wasn't in the cards for Hoss on Sunday. His set-up for the first attempt was shaky calling on the spotters to get him out of the hole. Hoss struggled to control the second attempt, injuring his knee as he started up. After some massage and icy hot, Hoss tried for a third time, but the pain kept him from moving the weight from the rack. Hoss says he initially lost a substantial range of motion due to a lot of swelling. But the good news is that he didn't sustain a complete rupture of the ACL, rather his orthopedist thinks the ACL is in tact and after 3 – 5 weeks he should be okay. Hope to see you in June, Hoss!
John Mattei earned the Amateur Men's Master Best Lifter Award with a masterful performance. At 271 lbs. and 55 years, John narrowly missed an IPA record 705 lb. third attempt squat, settling for his 650 lb. second attempt. He came back strong benching a 475 lb. record bench, finishing out his day with a 500 lb. pull. Powerlifting pioneer and legend James Cash took home the Professional Men's Master Best Lifter Award. We were honored to have Jim lift in the Nationals, and he proved that the years have left him just as strong. At 60 years and 219 lbs., Jim squatted 325 lbs., benched a record 390 lbs., and not surprising coming from one of power lifting's best dead lifters, Jim broke a 12-year dead lift record with 665 lbs. If you recall, back in the day Jim pulled 832 lbs. as a 220 pounder! We'll be looking for Jim in June at the IPA Strength Spectacular. Our most senior lifter at the Nationals was Clyde Tyler who at 79 years proved to the crowd that he's not too old to set some IPA records! At 179 lbs., Clyde set three IPA records making his fourth attempt squat of 160 lbs., pulling 230 lbs., totaling 530 lbs.
BENCH ONLY MEET
There was a nice showing of Bench Only competitors. Anna McCloskey made the cut twice winning the Amateur Women's Teen Best Lifter Award in the Bench Only meet with a 185 lb. Raw lifter Jan Swarthout's star is still rising finishing her third meet winning the Amateur Women's Best Lifter with a 130 lb. Raw bench in the 148 lb. weight class. Bonnie Graube teased us a couple of years ago believing she was going to retire from competitive lifting. Happily Bonnie came out of retirement but this time as a Professional Raw lifter. Bonnie proved she's still a powerhouse benching 225 lbs. in the 181 lb. class. Bonnie won the Professional Women's Best Lifter Award.
James Shaughnessy weighing only 212 lbs. smashed the Pro Master (45-49) and Amateur Men's Open IPA records with a huge 620 lb. bench. Entering both the Amateur and Professional divisions, James won both the Amateur and Professional Men's Open Best Lifter Awards for his tremendous performance. Dougie Hollis came to post some big numbers in the full power meet, but after three unsuccessful squat attempts Dougie decided to enter the Bench Only meet. His big 700 lb. bench in the Professional Men's Open 308 lb. weight class won him Pro Men's Best Lifter Award in the Bench Only division. The Amateur Men's Master Bench Only Best Lifter Award went to Michael Levin who at 204 lbs. and 62 years benched 335 lbs. Great job! Jared Cassidy and Gregory Murray each had notable performances in the Bench Only meet. Jared weighed-in at 238 lbs. in the Pro Raw Men's Open division and broke the existing record with a 540 lb. bench. Greg Murray benched a big 600 lbs. in the Pro Men's Master (40-44) 242 lb. weight class.
Many thanks are extended to all the lifters for their incredible performances. We hope to see you all at the 2010 IPA Strength Spectacular June 26-27 at York Barbell Company. The weekend will include the IPA World Powerlifting Championships and the North American Strongman "Cradle of Iron Strongman Contest."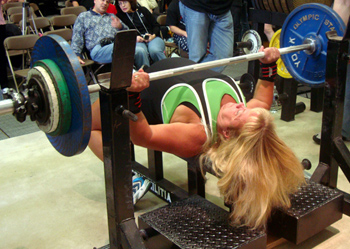 Lifting raw, Bonnie Graube's 225 lb. bench proved that she's a big bencher without equipment too winning the Pro Women's Open Best Lifter Award in the Bench Only division.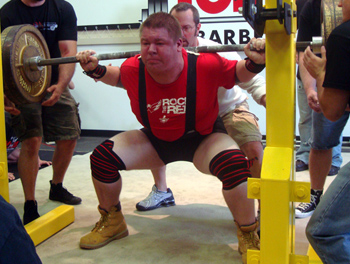 At 17 years and 294 lbs., Jake McAlpine managed to rewrite the IPA record books in his first meet with a 525 lb. squat and 470 lb. pull.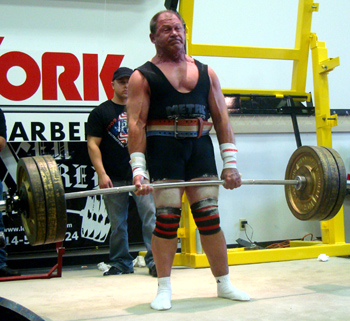 No surprise that dead lift legend Jim Cash can still pull big dead lifts at 60 years breaking a 12-year record with a 665 lb. pull. Jim's notable powerlifting career earned him an IPF World Championship and an 832 pull as a 220 pounder.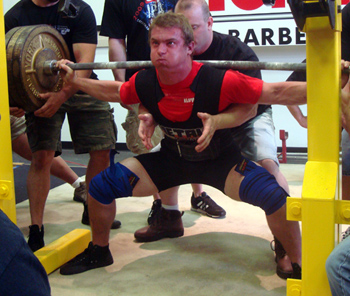 Clint Koser won the Professional Men's Lightweight Best Lifter award with a huge 732.5 lb. record-breaking squat easily lifting more than 4 times his bodyweight of 181 lbs.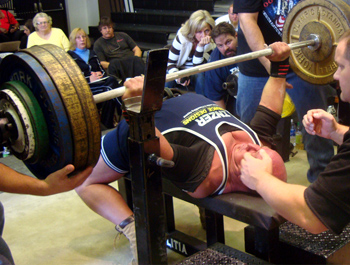 At 212 lbs. and a big 620 lb. bench James Shaughnessy cinched the Pro Men's Master and Amateur Men's Open Best Lifter Awards.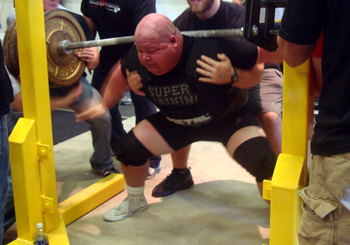 Clearly the most exciting moment of the weekend was watching big "Hoss" Cartwright maneuver a 1,110 lb. squat attempt. The image captures Hoss losing the attempt due to a knee injury that kept him from powering up the squat like we all know he can.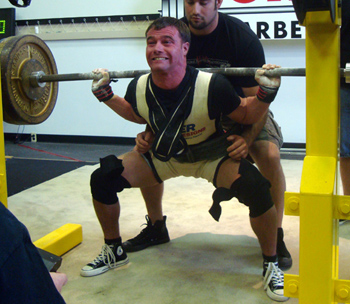 Mike O'Brien made a stellar performance posting his first Pro total managing to break records along the way finishing up with a 10 times bodyweight total winning the Amateur Men's Lightweight Best Lifter Award.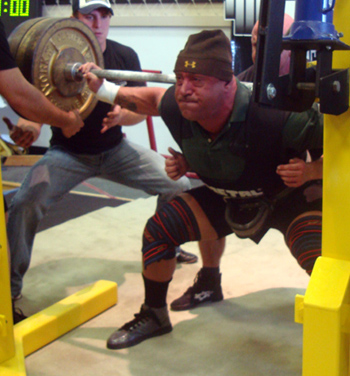 Jerry Obradovic posted some great numbers in the Pro Men's Open 275 lb. class winning the coveted Pro Men's Heavyweight Best Lifter Award with a 2060 lb. total.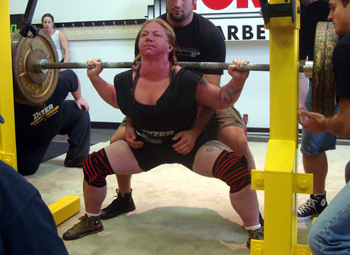 Rheta West pulled out two big IPA records squatting a massive 505 lbs. and a 295 lb bench in the 148 lb. Pro Women's Submaster division.